Vertically pointing doppler radar profiles (24 GHz Metek MRR-2) at Mario Zucchelli Station, aggregated to 5min, monthly netCDF archive
Vertical profiles along the first 1050m of atmosphere above the ground of equivalent radar reflectivity factor (Ze), Doppler velocity (W) and Doppler spectral width (Sw) from a 24-GHz vertically pointing Micro Rain Radar MRR-2 by METEK GmbH positioned at Mario Zucchelli Station (Antarctica).
Simple
Date (

Creation

)

2023-05-05
Identifier
Purpose

Charachterize solid precipitation over Antarctica with multiple ground-based sensors.
Status

On going
Maintenance and update frequency

Annually
SCAR Gazetteer of Antarctica (

Theme

)

Mario Zucchelli Station

Mario Zucchelli, Stazione

Inexpressible Island

Victoria Land

Terra Nova Bay
GEMET - INSPIRE themes, version 1.0 (

Theme

)

Atmospheric conditions

Meteorological geographical features

Protected sites
GCMD - Science Keywords (

Theme

)

ATMOSPHERE

SNOW/ICE

PRECIPITATION

RADAR

CLOUD MICROPHYSICS

ATMOSPHERIC WINDS

SURFACE WINDS

VERTICAL WIND VELOCITY/SPEED

CLOUD PROPERTIES

WEATHER EVENTS

RADAR REFLECTIVITY
GCMD - Providers (

Theme

)
Continents, countries, sea regions of the world. (

Place

)
GCMD - Locations (

Theme

)
PNRA project (

Theme

)

APP Antarctic Precipitation Properties PNRA14_00122
Use limitation
Unique resource identifier
Association Type

dependency
Initiative Type

Project
Unique resource identifier
Association Type

dependency
Initiative Type

Campaign
Spatial representation type

Text, table
Denominator

1
Metadata language

en
Character set

UTF8
Topic category

Climatology, meteorology, atmosphere
Begin date

2018-11-15
End date

2022-12-31

Now
Unique resource identifier

WGS84
Hierarchy level

Dataset
Domain consistency
Conformance result
Date (

Publication

)

2010-12-08
Explanation

This data set is conformant with the INSPIRE Implementing Rules for the interoperability of spatial data sets and services
Pass

Yes
Statement

Raw instrument data is gathered daily, then processed with IMProToo v0.107 (Maahn, M. and Kollias, P., 2012), available at https://github.com/maahn/IMProToo . IMProToo is an improved processing method for Micro Rain Radar (MRR). It is especially suited for snow observations. Three variables are extracted: equivalent reflectivity factor, Doppler velocity and spectral width. They are all dealiased automatically. Original time resolution is 1 minute. Data is aggregated to 5 minutes with an average if least three out of five 1-minute values are not NaN inside the selected interval (NaN values mean clear sky). The first and second height ranges are affected by ground clutter and thereby are excluded. The highest is affected by low SNR and is excluded as well. Note that this data has been processed regardless of precipitation type.
Overviews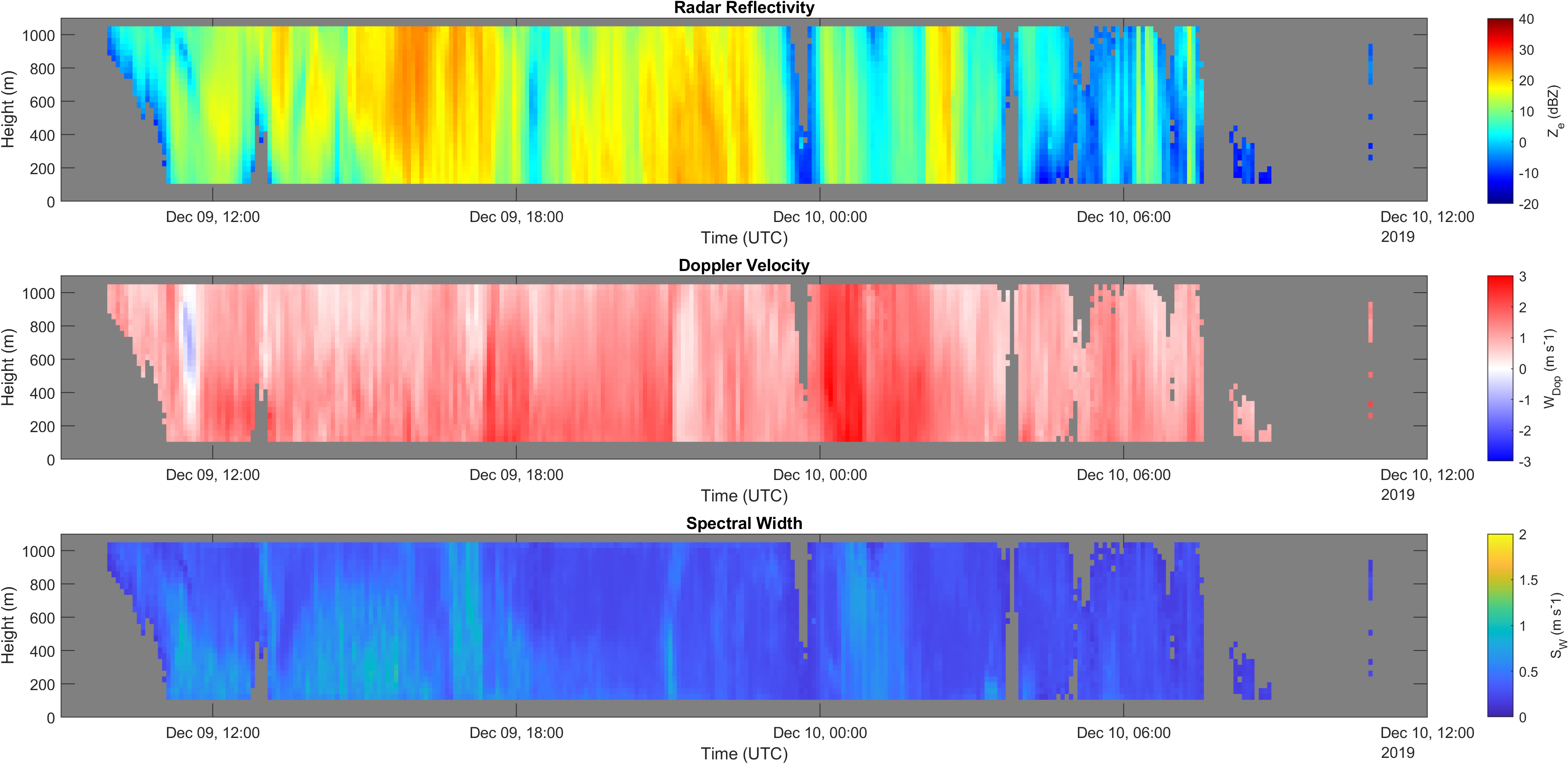 Spatial extent
Provided by
Associated resources
Not available